Enameled Technology Industry
ETI.sa is recognized by EIC group and Wendel Email Germany.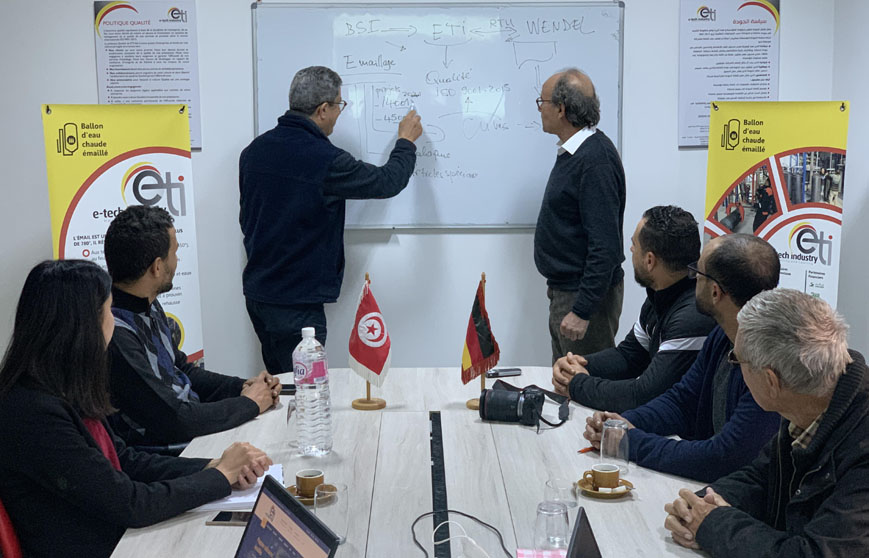 "

Today we occupy a place of choice in the sector of enamelling in Tunisia, thanks to a strategy of development that knew adapt to changes of the market…

"

Chief executive officer

RAFIK MISSAOUI
ALCOR Consultant
" The introduction of enamel as a hot water tank coating technology is a real support to the local market and for the export of Tunisian products, the entry into production of ETI.sa constitutes an important date in the history of solar water heaters in Tunisia. "

Taoufik HARBAOUI
Senior consultant
" I was pleasantly surprised to visit the ETI.sa site in Zeriba, I saw a clean and organized site and a competent and nice willing team. I am convinced that ETI.sa will make progress in developing its activities and creating added value. This development is also sustainable as ETI.sa is corporate citizen and committed CSR.  "

ABDELKADER BACCOUCHE
Assistant Director ANME
" First of all I would like to thank you for your hospitality and reception at the ETI factory, we are proud of you as an ANME alumnus and as an operator in the solar thermal sector, thank you."

GREIS TORSTEN
Chief of mission GIZ Tunisia
"  This is an evaluation mission for high-volume funding for the NAMA Building program of Tunisia.The aim is to assess whether Tunisia is ready for the implementation of this program under NAMA mechanism."

KARIM BEN ACHOUR
Architect
"ETI.sa is an enamel unit implemented by a group of shareholders who believe in innovation and development, it should enable a real transformation of the solar water heater market . "

ARNULF KNORR
GIZ Egypt expert
"Thank you again for the opportunity to have insights on the Tunisian SWH private sector and especially the opportunity to visit your very interesting companies."
Customer or Partner of our company?
 Submit your testimony on our behalf !